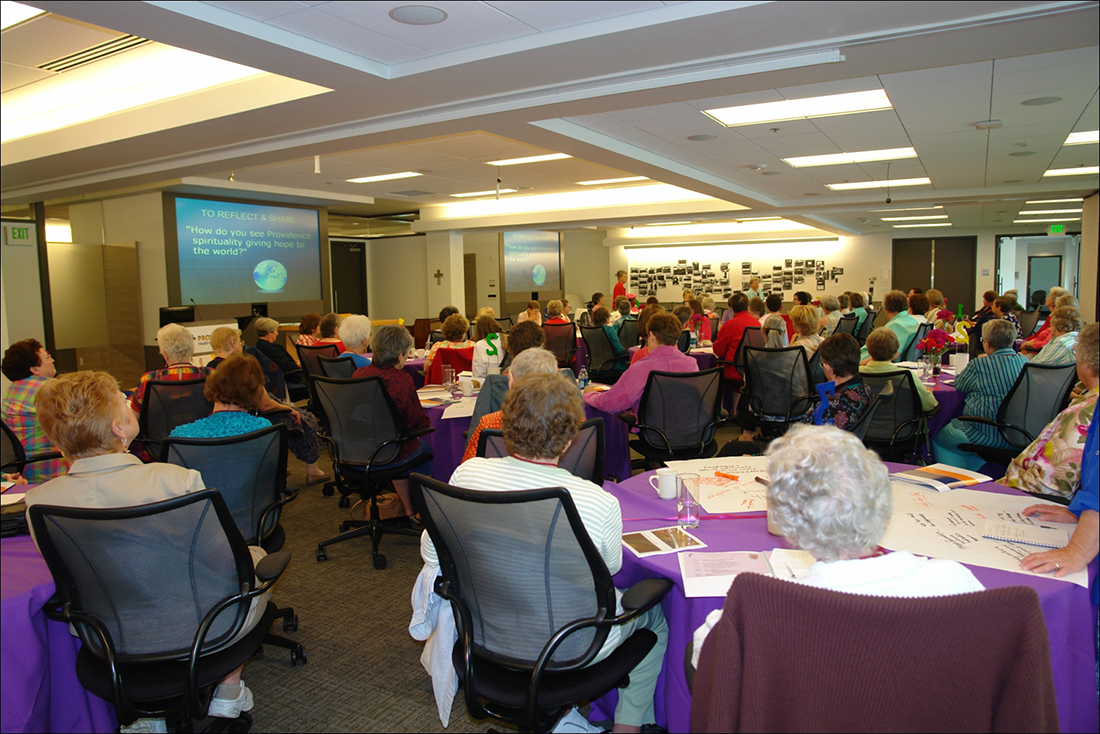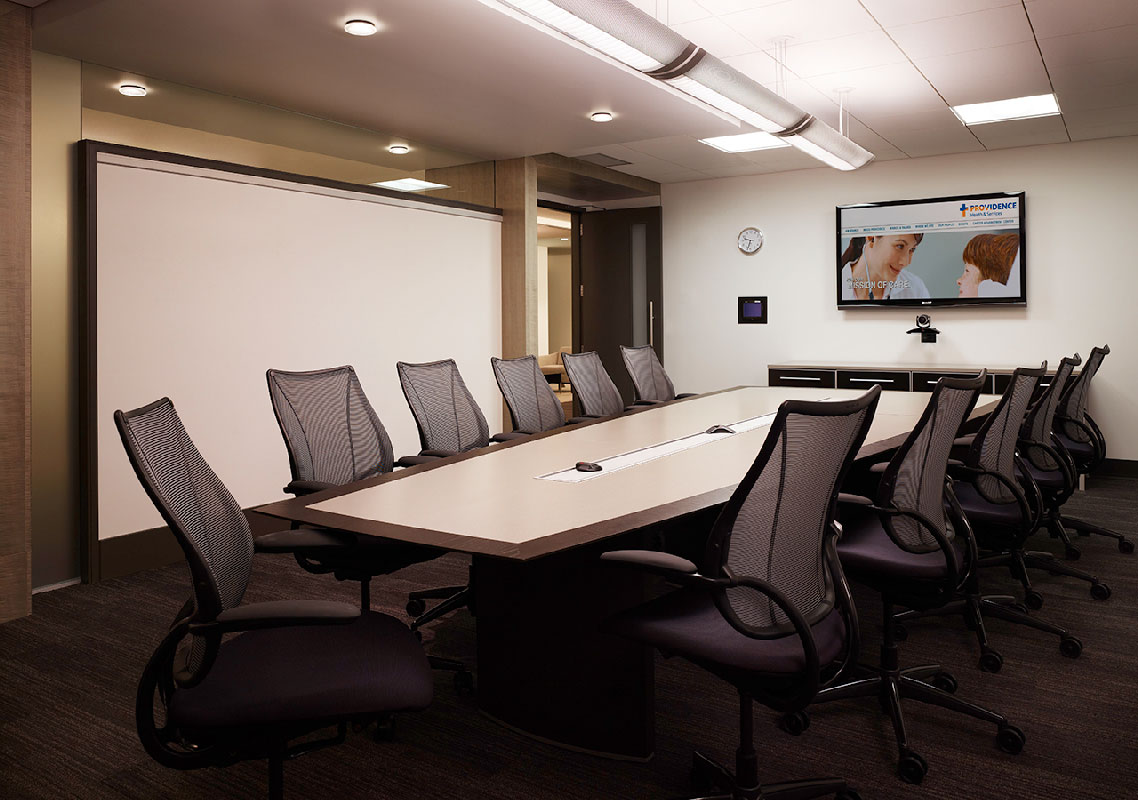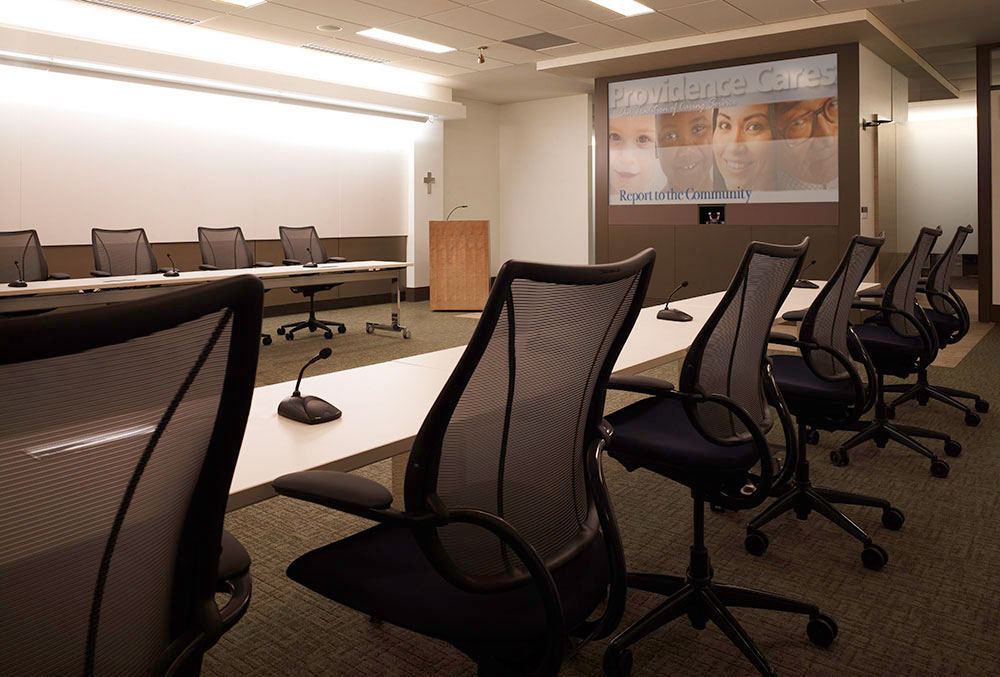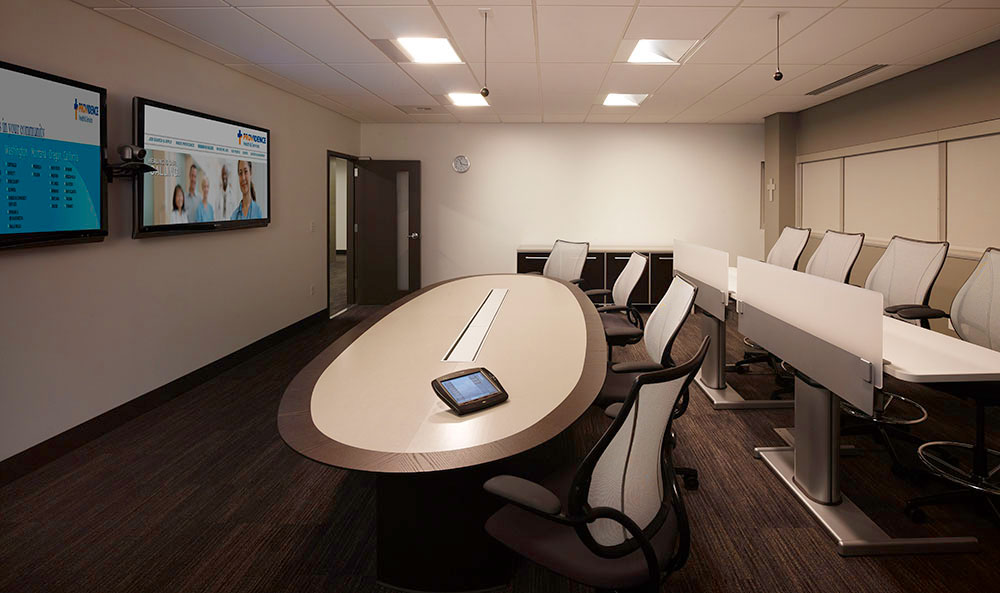 The Challenge
REDUCE MEETING COST. Build a multipurpose Conference Center to draw health system and community gatherings with up to 150 participants. Use videoconference technology to reduce travel by colleagues spanning 5 states, from Alaska to Montana to California.
Design Elements
Creating a welcoming environment embraces the values of the organization, and also proves effective in attracting meetings formerly held at off-site locations. At the heart of the Center lies a community gathering place, where meals are served buffet style and soft seating encourages conversation. Ceiling-mounted screens in this area provide both news and a conference center event directory. Abundant windows connect all spaces with the outdoors, and lighting systems are designed for high quality camera images. Large rear projection screens in the multipurpose room let light levels remain high, for great eye contact. And flexible furnishings, with generous storage nearby, can be quickly rearranged for maximum visitor comfort.
AV Tools and Solutions
Enabling collaboration, both in person and through teleconference technology, requires voice clarity above all else. Vancouver Rooms A, B and C include a combination of ceiling, table, lapel and handheld microphones for local amplification and audio/video teleconferencing. When these rooms are used individually, automatic mixing and gain control allow users to communicate easily. When the rooms are combined for special events, the conference center technology team can access individual mic controls to fine tune audio levels and minimize distraction. Six videoconference venues, of graduated size and similar capability, allow both point-topoint connection by users; and multi-site meetings with dozens of sites connected through an onsite conference bridge. A central control room with workspace for two allows all headquarters conference rooms to receive audio and video from the Center, supporting both large events and emergency management requirements.
Case Study

 
Providence Conference Center
Renton, WA
Key Element: Six videoconference venues, optimized for superior sound clarity, to help unify colleagues from five states with the goal of improving health services for patients.
Architect: Callison, Seattle
AV Consultant and Integrator: Cibola Systems